General E-Mail Settings
For more detailed setup instructions please use our Setup / Troubleshooting E-Mail page. Sign into the tool using your email address and email password.
| | | |
| --- | --- | --- |
| Inbound Servers Type | Server Address | Port Number |
| POP Server (SSL) | secure.emailsrvr.com | 995 |
| IMAP Server (SSL) | secure.emailsrvr.com | 993 |
---
| | | |
| --- | --- | --- |
| Protocol | Server Address | Port Number |
| SMTP Server (SSL) | secure.emailsrvr.com | 465 |
---
Phishing Email Scam
Phishing emails are a common problem in todays day and age. Companies of all sizes are struggling to fend off many email attacks which target users to give out personal details or payment information. It is important to note U.P. Logon will never ask for passwords, billing details or payment information via email. If something needs to be updated within our systems we will call first. Mark any message you suspect being a scam as SPAM.
Phishing emails try to steal your passwords, account numbers, or Social Security number. Scammers launch thousands of phishing attacks every day!
Common Phishing Email Scams

Email notifying you of suspicious activity or log-ins
Claim there is a problem with your account
Request personal details
Want you to click on a link
Have a urgent or timeline to reply with the details
For Example: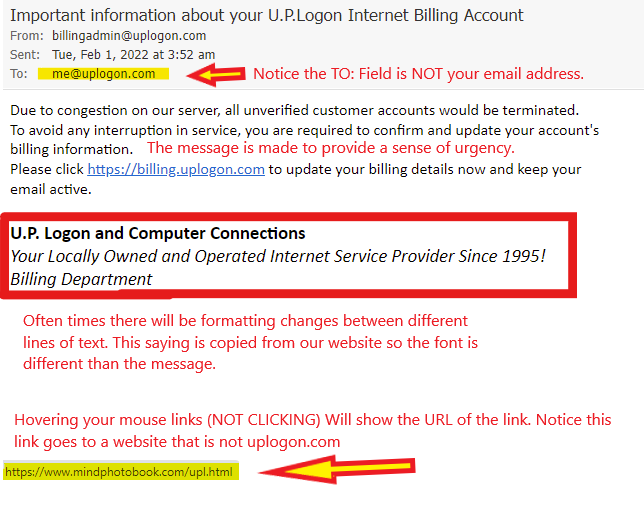 How to Protect Yourself
The best way to protect yourself is to suspect all email messages being a fraud! Suspect any message from companies that you have not requested information or details from. Also make sure to review your email security settings. Ensure your computer system is running an up-to-date virus software and malware protection.
Email access is the scammers key target – Once access is gained to your email all accounts that you have registered with that account can then be taken over by password resets and other method of entry. Protect your email account and DO NOT USE your email password for other accounts. Make sure to use a secure password that is made up of passphrase or with random characters, numbers and symbols.
For more detail information we recommend visiting the Federal Trade Commission website or watch this quick video from the IRS.